Cryptocurrency exchange CoinField could start using XRP as the base currency. The platform explained in a tweet that it has been evaluating this possibility. If XRP is finally used as base crypto for the exchange it will be exchanged for other 30 cryptocurrencies. It will also be featured with other fiat currencies such as USD, CAD, EUR, GBP, JPY, and AED.
CoinField Could Add XRP as Base Currency
In a recent tweet, CoinField hinted that it could soon adopt XRP as a base currency for its platform. According to the company, this is part of an expansion plan in 69 different countries.
The Tweet read as follows:
"We've been evaluating the possibility of adding #XRP as the base currency for 30 direct crypto pairs along with USD, CAD, EUR, GBP, JPY & AED. Part of our expansion plan in 69 countries."
The XRP community has been working in order for it to be used as a base currency in other platforms. For example, a Twitter user known as @C3_Nik, wrote in August that the XRP community would like to see XRP listed as a base currency on Binance. The Tweet has received more than 1,800 Retweets and 2,250 likes.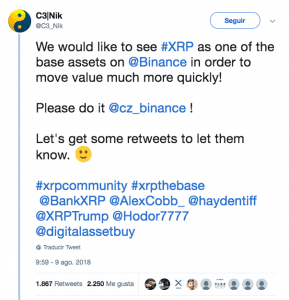 XRP could help exchanges become faster and cheaper to use, something that would bring more users to the platform. Moreover, it could make it easy to transfer funds between exchanges. That would clearly increase the trading volume at the platform as well as liquidity and attract more investors.
Weiss Ratings, an important and independent rating agency asked on twitter which is the best cryptocurrency to move funds between exchanges. More than 7,500 individuals answered and 78% of them selected XRP as the best option. Ethereum received 8% of the votes and Bitcoin 6%.
XRP has been moving in the last weeks. The virtual currency spiked over 100% in just some days. The community is very anxious waiting for the latest products that will be using XRP. According to Ripple, the results of the xRapid product have been very positive.
Interested in buying XRP? You can see our guide here.
Carlos is an international relations' analyst specializing in cryptocurrencies and blockchain technology. Since 2017, Carlos has written extensively for UseTheBitcoin and other leading cryptocurrency sites; with over 2,000 articles published.