(Updated February 13, 2021) This year hasn't started greatly for XRP as BITBOX, a leading crypto exchange based in Asia, announced that they were going to delist the cross-border payment token. The platform failed to offer a concrete reason for why they are taking this action. Part of the reasons they provided for why they can delist a coin included performance, reliability, and liquidity.
It's not surprising given that the move came just hours after XRP pumped 12% after months of bleeding over 2019. XRP ended the year -50%.
However, delisting and underperformance aside, Ripple is still the third-largest cryptocurrency by market cap and its set to see increased usage in 2020 through cross border payments in Southeast Asia, Africa, and Latin America.
Also, with research showing that investors are losing faith in XRP, which has seen it stuck around $0.20 level for a while, the overtly negative sentiment at times precedes major trend shifts. The decline in investor confidence in XRP is likely to fuel a rally.
At least that is the opinion of one popular crypto analyst who goes by the name Mr.Anderson. through a tweet, he recently explained that even though XRP's price action looks quite bearish, like many altcoins, XRP will be able to form long-term bottoms when investors "throw in the towel."
In this piece, we are going to take a look at a few reasons why we believe XRP is set for better days in 2020.
1. Increased Adoption By Banking Institutions 
Ripple provides a blockchain solution which tries to solve the problems that have hampered the financial industry over the decades: slow transaction processing speeds, high transaction costs, and unreliability. Ripple also aims to make cross-border payments far more efficient for these large payment providers.
Early success in showing these solutions is why major financial institutions have been quick to partner with the Ripple platform.
So far over 100 financial institutions who range from payment providers to banks have partnered with Ripple and are in the process benefiting from the many blockchain solutions that the platform offers.  Earlier this year Ripple partnered with BankDhofar—the first bank in Oman to make such a partnership. Dr. Tariq Taha, the bank's chief of information in a press release statement was quick to point out why this move was so significant for the bank.
"With this, we can provide instant, frictionless and secure cross-border money transfers within seconds, with end-to-end visibility over the journey of the payment"
Ripple has also stated that an announcement is forthcoming where it will partner with "many banks" in Germany.
2. Further Partnerships – The Most Important Ripple News
Ripple has been positioning itself as the preferred distributed ledger technology for cross-border financial transactions.
On this front, Ripple has seen major adoptions by financial firms. Sadly, the price of XRP has not shifted proportionately to these partnerships.
Some commentators have suggested it's because some of these firms are not utilizing Ripple's native coin, XRP.
While this is partially true, below we are going to look at three reasons why the price of XRP is going to peak soon.
The Flutterwave Partnership
Flutterwave is an Africa-focused firm that seeks to bridge the gap between Africa and the global economy.
Its partnership with Ripple, allows Flutterware to utilize the power of Ripple's blockchain to build payment infrastructures that will serve their mission.
This partnership has, for the first time, opened Africa to the Ripple platform which has been the de facto blockchain for processing payments in other parts of the world.
To realize the full potential of the platform Flutterware had to undergo new configurations which included the installation of an xCurrent. This connection allows all the platforms on RippleNet to send and receive payments in real-time.
Ripple's xCurrent will be interfacing with InterLedger Protocol designed by Fluttterware to accommodate a single currency.
As this partnership runs deeper, a use case for XRP will, presumably, naturally arise and this will impact its price positively.
Integration On Moneynetint
It's another significant integration that will see the price of XRP rise in the coming months.
Moneynetint is an e-money firm based in the United Kingdom. The firm specializes in sending money across borders for corporate clients. It's something that implies that the amount of money being sent is relatively huge.
Yishay Trif, the CEO of Moneynetint in a statement said:
"Once we realized how professional the Ripple team was and supports the process, we decided to choose them. We expect that together we will be able to lead significant development and simplify processes in the area of cross-border money transfers. The processes of interfacing and approval between financial institutions, previously taking months or even years are now significantly reduced to a matter of days to a few weeks."
This positive development indicates that Ripple is likely to rise soon given that this is the beginning of their collaboration.
Using Credit Cards To Buy XRP On Binance
This is perhaps the second most important news of 2019 for Ripple. The giant Binance gave users the opportunity to purchase cryptocurrency using credit card payments by a Binance & Simplex partnership.
This has made things way easier. If by now the only way to purchase XRP was by purchasing BTC/ETH first, as mentioned in our "How To Buy XRP from Binance" guide, right now you can do it only with a few clicks. Now all you have to do is enter you Binance account, make sure you're verified level 2 and click on "Funds" -> "Buy with Credit Card".
Easy, right? And the fees are pretty low too – 3.5% or 10 USD – whichever is higher. Visa and Mastercard are accepted and it takes between 10 and 30 minutes for the XRP to reach your account.
Also, there are other significant partnerships that have the potential to impact the price of Ripple in the coming months.
For example, the Gates and Melinda foundation partnership that has helped connect the unbanked people to financial solutions through the Mojaloop project. The project uses the power of Ripple's interledger Protocol.
Moreover, the Ripple's CEO has stated that 'dozens' of financial institutions will be using the XRP token in 2019. So it's safe to assume that the price of Ripple (XRP) will see massive gains soon.
Ripple is now on Coinbase Pro
Starting February 25th 2019, XRP trading is live on Coinbase Pro with XRP/USD, XRP/EUR and XRP/BTC pairs. Unfortunately, only users from the US (non New York residents), UK, European Union member nations, Canada, Singapore and Australia could trade XRP on Coinbase Pro. The announcement also mentions that more countries will be added at a later date.
This was waited for a long time by the Ripple enthusiasts and this move increased the price of XRP by almost 3 cents in an hour.
3. It's Now The Fastest Transaction Processing Platform
Visa used to be the fastest company when it came to global financial transaction speeds until recently. A number of system updates on the Ripple platform have seen the platform overtake the top position.
Before the system update, Ripple could handle only 1,500 transactions but now can process up to 50,000 transactions per second. This is over double the number Visa can handle with 24,000 only. This makes Ripple the fastest transaction processing platform in the world.
Now corporations can subscribe to the xRapid package offered by Ripple and make quicker and safer transactions. The package will also help drive down the cost of currency exchange and global settlement since XRP and fiat currency fit like a glove and a hand.
This will save companies and their customers millions of dollars each year.
Regarding the xRapid solution, Ripple is trying to expand it to reach a larger number of companies processing payments and transfers using the XRP digital asset. There are several firms that are analysing the possibility to implement this solution to improve their liquidity. 
Brad Garlinghouse, the CEO of Ripple, is confident that banks will be using this solution by the end of this year. 
One of the firms that are using xRapid is Cuallix. Located in Mexico, the company provides credit and payment solutions through credit loans, car insurance and more. After joining the RippleNet in 2017, the firm decided to start testing the xRapid solution even before being released to the market in 2018. 
Mercury FX, a recognized money remittance business, is also using XRP to send payments to and from Mexico. At the moment the company created a payments channel with the Philipines that allows institutions and interested customers to send payments in a fast and easy way. 
Other firms using these services include SendFriend, MoneyGram and Euro Exim Bank. These firms are also using the xRapid product to be able to improve their services. 
We're happy to announce Cambridge Global Payments @cambridge_fx is using $XRP in an #xRapid pilot to provide its 13,000 global customers with faster, cheaper and more transparent cross-border payments. https://t.co/dEoL1jVAdh

— Ripple (@Ripple) March 1, 2018
With many other companies testing XRP, including Cambridge FX, WesternUnion and others, the digital currency could continue expanding. David Schwartz, the CTO of Ripple, said that the higher the price of XRP, the larger the payments Ripple can target. 
"More value almost always means more liquidity and trade volume. XRP already has each of the other characteristics needed to be a good intermediary asset, but it will be initially limited by the available liquidity," wrote Mr. Schwartz. 
A higher price for #XRP would help @Ripple several ways: pic.twitter.com/iSgRK6Mmn1

— David Schwartz (@JoelKatz) September 5, 2017
The xRapid solution allows firms to purchase XRP using local currency from liquidity providers (i.e. exchanges) and make a transfer using XRP. The receiver client will be able to sell the funds with local liquidity providers and receive local currency that can be transferred to a bank account.12
Experts Ripple XRP Price Prediction for 2019 & 2020
Ripple is two things: a cryptocurrency (XRP) and an open payment system for banks. The cryptocurrency is a strong liquidity solution for real-time, low-cost transfers through fiat and crypto markets, as well as a solid investment option.
According to Messari Ryan Selkis, the CEO of Messari Ryan, Ripple Company, as free-standing software is "really good," and their information is quite transparent. Additionally, more companies continue to use the protocol to transfer money to different parts of the world. This is a key factor that will see the coin's price surge.
Moreover, Brad Garlinghouse, Ripple CEO, recently stated that the growing value of the coin is justified. He attributed this growth to the company's growth, as well as the size of foreign exchange markets that the coin intends to address.
According to Ripple's chief cryptographer, David Schwartz, today's payments systems are where the email was in the early '80s. Each provider built their systems for their customers, and if the customers chose to use a different one, they couldn't interact easily with each other. This is where Ripple comes in; the platform will enable a connection between different payment systems. This will be followed by increased adoption, which will push the coin's price up.
Ripple Coin News, the web's 2nd largest Ripple news network by traffic argues that the increased new partnerships, technologies and a strong performance will see the coin's price hit $7 this year.
Additionally, the CEO of Ripple, Brad Garlinghouse, expressed optimism when he stated that many more payment companies, financial institutions and banks will join the Ripple ecosystem, thus increasing XRP's value.
Peter Brandt is one of the people that you should follow. He's a master in charting & trading. When asked by a user about the insights about Ripple, he replied with a nice graph.
definitely coiling up pic.twitter.com/ixY4b6ysqx

— Peter Brandt (@PeterLBrandt) January 21, 2019
InvestingHaven – a well-known website for investors and enthusiasts – made a long analysis over Ripple's price. According to their analysis, they see a potential $20 price for Ripple's XRP at the end of 2019. A Ripple price prediction of $20 at the end of 2019 is pretty optimistic, based on the fact that now it is only $0.29.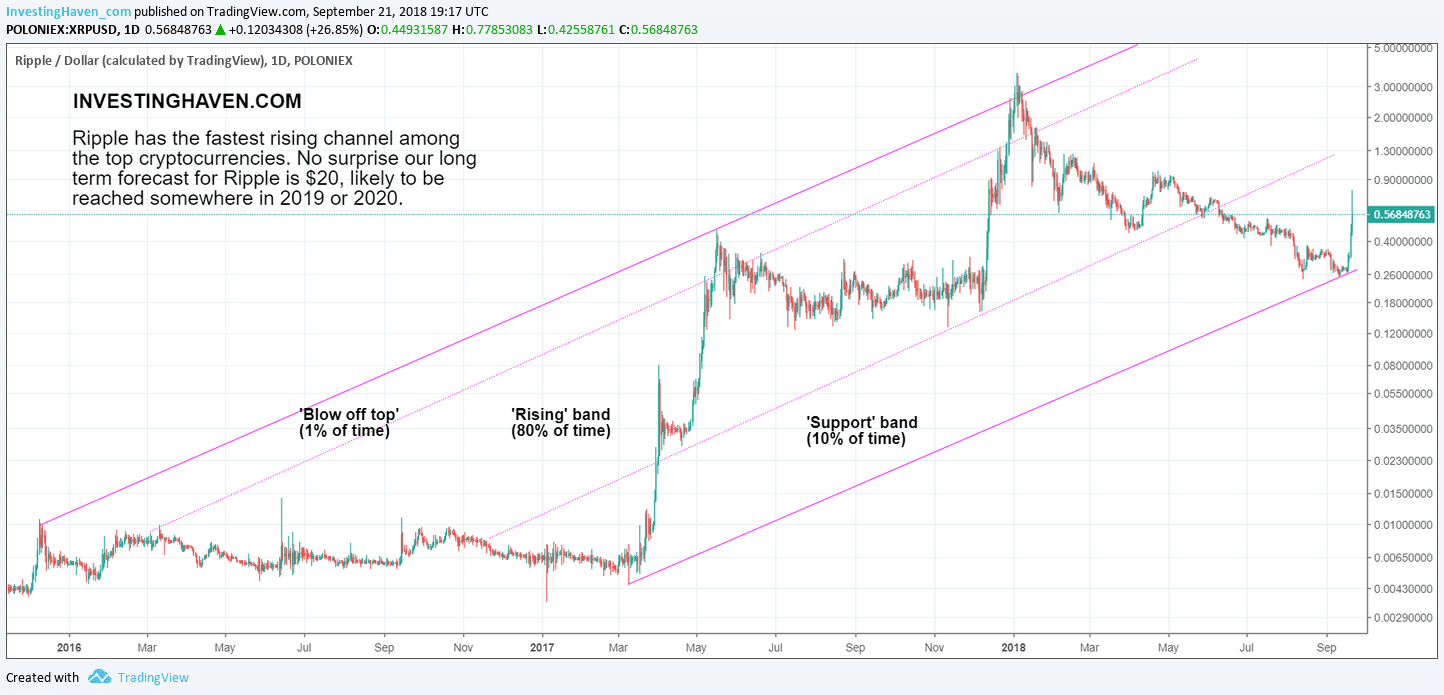 Even in June, they are still bullish on Ripple and claim their price prediction could come true in 2019 or 2020 – it will all depend on the crypto market & how it will evolve.
Phillip Nuun, the CEO of Wealth Chain Capital & The Blackmore Group didn't mention his opinion about the ripple's price nor made a ripple price prediction – but he claims that Ripple will be among the most important cryptocurrencies out there. To show how enthusiast is he about Ripple – he compared them with Microsoft.
I've never been a supporter of #ripple $xrp

But boy they are making some serious moves. And the fact I have issues with their offering are being put aside for now as they become so important in flying the #crypto #blockchain flag

They will be come the Microsoft of #crypto

— Phillip (@PhillipNunnUK) October 2, 2018
LongForecast – a website that calls themselves "The Economy Forecast Agency" doesn't believe too much in Ripple's XRP. Their Ripple price prediction for 2019 & 2020 is way above the average even now. They believe that ripple's price will be between $0.1 and $0.2 until July 2021 where it will start another bull market for Ripple. Only in 2023 March, they see a $0.49 price per Ripple.
OracleTimes on the other hand had the same vision as we do – $5 by the end of 2019. And the news so far seems to be in Ripple's favour – even though the price isn't. Ripple declined by 10% since 2019 started. But, given into consideration that now almost anyone can purchase Ripple using the credit card on Binance or from Coinbase Pro – more people would be able to buy it leading to a bigger adoption. And, we check the Bitcoin's price since it was launch until today we can see that adoption is one of the most important factors.
Ripple (XRP)  Price Prediction – Technical Analysis TradingView, Updated February 13, 2021
XRPUSD short by BullmarketFX on TradingView.com
For this analyst, it is possible to get a good shorting opportunity. He considers that on the daily timeframe, there has been a W formation that could complete at the neckline close to 0.475 per coin. Moreover, there has been a strong resistance level at around 0.61 USDT showing XRP might have some difficulties surpassing this level for long periods of time. 
It is worth mentioning that the analyst is waiting for lower time-frames to enter a short position at these levels. Nevertheless, this is not investment advice from our side. We are waiting for the next move by XRP in the near future.
XRP/USDT – Back in the game – LONG by OrianaGH on TradingView.com
The analyst is showing that the virtual currency could have bottomed when it reached 0.244 USDT per coin. Now, we see XRP is moving higher and it could test the 0.30 USDT resistance level. 
In addition to it, the analyst claims that he is waiting for a pullback to make a long entry at 0.29 USDT per XRP. He has also stated that XRP has broken up a major bearish trend line. 
If it surpasses 0.30 USDT, then it could reach much higher levels in the future. However, it is very important to follow the fundamentals behind this digital asset after the issue it experienced with the U.S. Securities and Exchange Commission (SEC).
XRPUSDT long by Trader_OMS on TradingView.com
For XRP, we see that the analyst is showing that the virtual currency could be traded between two resistance levels. These levels include the 0.23845 USDT and the 0.27011. These are very important to sustain XRP price in the short term. 
Although XRP could fall to around 0.23845 USDT per coin, it could then start moving higher towards 0.43759 USDT. This would represent a price increase of 83% in the coming weeks and months. Nevertheless, the analyst is warning traders that this is a personal market judgement based on published information and historical data on TradingView. Thus, this could definitely change in the coming weeks.
XRPUSDT 01 JAN 2020 (careful short) by dee718 on TradingView.com
XRP has been affected by very bad news during the last week. The U.S. Securities and Exchange Commission (SEC) sued Ripple and two executives of the company. He considers that this has been helpful for many investors and people to be shaken out of the digital asset. 
Moreover, he considers that the situation remains open and that the virtual currency could recover to around $0.38 in the near future. However, this might be somehow complicated after falling below $0.18 for a short period of time last week. Volume has also been very high in recent days as sellers and buyers exchange XRP.
XRPUSDT is creating a bullish flag 🦐 by plancton0618 on TradingView.com
XRPUSDT is currently in a moment where a bullish flag is being created in the 4-hour chart. According to the analyst, this could be a very bullish movement for XRP, which could help the digital currency to move to $0.70 per coin. 
The analyst believes that if the price tests the 4h support and has a breakout, it could be a good moment to set an order to move higher. Currently, XRP is being traded at the resistance level $0.59 per coin and it is trying to break this level to continue its move upwards to the above-mentioned price levels.
Frequently Asked Questions (FAQ)
Who Created Ripple?
Ripple was created by Ripple Labs Inc, a US-based tech company. The idea was conceived by Jed McCaleb and initially built with the help of Arthur Britto and David Schwartz.
When Was Ripple Launched?
Ripple was released in 2o12 and launched in 2013.
Is Ripple Decentralized?
Ripple is centralized even though its executives claim its decentralized. According to Matt McKibbin, a blockchain expert, "Ripple is centralized. It's basically a way for banks and large financial institutions to trade on a distributed ledger."
Is Ripple Proof of Stake? 
Ripple doesn't use proof of stake or proof of work consensus but a consensus protocol that helps validate account balances and transactions on the system.
Is Ripple a Good Investment?
For investors that are looking for excellent investment under $1, XRP is a great option. This currency isn't your typical digital currency, as Ripple is working on revolutionizing ways in which money is transferred.
Will Ripple go up? 
There is growing interest going on among financial institutions as they stand to gain the most by partnering with Ripple. More attention is good for the price of the native currency XRP, and we can expect to see its price increase in the long run. 
Where to buy Ripple?
Before buying XRP, ensure you have a safe place to store your coins. That means getting an excellent hardware wallet e.g., Ledger Nano X, Edge, Trezor, etc. The next step is finding an XRP exchange where you can buy XRP with fiat, exchange BTC for XRP or purchase it through a fund.
You can buy XRP using a credit/debit card on eToro, Coinmama, CEX.io, Binance, and Coinbase. Buy XRP using wire transfer on eToro, CEX.io, and Coinbase.
Buy XRP using SEPA transfer on Coinmama and CEX.io.
On eToro, you can also buy XRP indirectly through a trading fund. You can also buy BTC and exchange for XRP on platforms like Binance, Kraken, and Bitstamp.
Is Ripple Dead?
Unlike many coins that have come and gone due to lack of real case uses, XRP is here to stay. Judging from the interest of banks and other financial institutions, we don't believe Ripple is going anywhere soon. 
 Is Ripple Better Than Bitcoin? 
Nope, but comparing the two platforms is not fair given that both are used for different purposes. Bitcoin was developed to pay for services and goods, but Ripple was created for banks and payment networks to serve as a currency exchange, payment system, or money transfer system. 
 Will Ripple Fail? 
In the short term, its highly unlikely Ripple will fail.
Eric is a cryptocurrency writer and editor. He has written on emerging technologies for over seven years, and has accrued over 2 million page views. He also runs the paid Coin Agora community. He is currently working on his first novel, which involves a cryptocurrency start-up.